Employment in Oman : How to Recruit & Hire Oman Employees
Oman's Labor Law Royal Decree 35/2003 is issued by the Sultanate of Oman regarding all laws pertaining to Labor and employment-related issues. Work regulations in Oman and any modifications are effected through royal rulings and ministerial resolutions.
The work legislature mirrors the continually shifting nature of regulations governing workers and businesses in Oman. These legislations apply to a wide range of types of employees Omani or non-Omani. The Omani Labor Law relates to all workers excluding civil employers, army, or domestic service employees.
In this article, you will learn what there is to know about employment in Oman and hiring compliance. Therefore, as an important factor of an expansion, you need to learn how to recruit and hire Oman employees. In addition, meet all Oman employment compliance laws, and choose whether or not you want to use Oman hiring outsourcing services.
Key points on employment in Oman
How to hire employees in Oman
Employment contracts in Oman
Types of employment contracts in Oman
Onboarding in Oman
Trial perio for employees in Oman
Employment termination in Oman
Is an EOR a suitable option for employment in Oman?
How can EOR Middle East help you?
1. Key points on employment in Oman
The country has applied a dogma of Omanization that standardizes the employment in Oman of emigrant labor. Numerous schemes and strategies for employment in Oman place substantial limitations on the number of foreign nationals employed. Therefore, the goal is to give priority to Omani workers.

You may also want to learn about Oman immigration work permits and visas
The private segment meets terms with quite a few sources of power, comprising the Constitution, Labor Law, Ministry of Manpower (Ministry of Labor) ministerial verdicts, and the Social Insurance Law.
An indulgent approach to Omani culture is a crucial tool you'll want to have at your disposal throughout the employment process. In addition, it's just as important for your drafting team to put some thought into the logistics of recruitment in Oman. For example, you'll want to publicize your company's open spots in the fitting networks to reach the pool of talent in Oman.
You might start by marketing your job positions in local Omani newspapers. English is the main language in Oman's corporate world, and there are a few English-language media outlets where you can publicize positions. To reach the broadest group of applicants, you might decide to list jobs in English-language journals as well as Arabic newspapers.
2. How to hire employees in Oman
You should employ your Oman workers using a printed work contract to stay compliant. Make sure the contract is in the native language and comprises information about payment, benefits, dissolution, and more. Compliance law for employment in Oman requires you to create two copies and provide one to the worker. Any letter or service contract that contains salary or other benefit needs to use Omani rial instead of a foreign currency.
Learn everything about Employer of Record and what they can do for your business
In addition, Oman's employment compliance laws seriously favor Oman residents as part of its "Omanization" policy. You'll come across hefty restrictions on the number of foreign nationals you can hire. Furthermore, the country has industry-specific proportions for private sectors stipulating the quantity of Omani workers you must have in your business.
The Oman Labor Law in accord with the Sultan's Decree no. 35/2003 outlines other Oman work compliance laws. The laws governing workers and companies continually change, so you should remain alert for other royal verdicts and ministerial resolutions that will have an effect on how you operate.
3. Employment contracts in Oman
Work forms in Oman must follow the guidelines governing the Omani service contract in agreement with the Sultan's Decree no.35/2003. The contract of employment in Oman must be in the Arabic language, or a translation must be formalized and notarized in Arabic. A formal contract is not important. Although it may come in handy for the employee to prove that such an employment relationship has been entered into by all means of evidence.

The employment contract must contain the following:
Name of the employer, establishment, and address of work.
Name of the worker, date of birth, qualifications, occupation, place of residence, and nationality.
Nature and type of work.
Period of contract.
Basic salary and any allowances or advantages.
A suitable period of notice to terminate the contract.
An extra- legal condition for a permitted employment agreement is to respect the Islamic religion, laws of the country, customs, and social traditions in Oman. All detrimental activity against the safety of the country is illegal.
4. Types of Employment Contracts
4.1. Fixed Contract
Fixed contracts are lawfully valid for a fixed period and are more pertinent for situations where the worker is hired for assignments that involve a specific period of time to complete. The fixed contract by design terminates on the expiry date. Also, the contract may be considered as renewed with the same terms of both parties continuing the employment arrangement as if it were still in place.
4.2. Indefinite Contract
Indefinite or unlimited agreements are granted to be valid for an indefinite period of time as long as both parties are persistent with the service arrangement. There is no culmination date for the indefinite contract. In addition, termination involves notice and a "reasonable and fair" basis to be provided if it is termination by the employer.
In both types of contracts for employment in Oman, there is a number of a mandatory entitlement or benefits that should not be overlooked. Those employee entitlements are:
4.3. Time off Work
A worker has the right to leave with gross salary for singular situations, such as three days for marriage or a loss in the family and fifteen days for religious journey or checkups.
4.4. Medical Leave
Sick leave is subject to the provisions of the Social Insurance Law and must come with a valid medical certificate stating the reason for sickness or absence, referable to the Medical Committee. Sick permits may not surpass ten weeks per year.
4.5. Pension
The Omani Social Security System covers all Omani citizens between the age of 15 and 59 who have a permanent job contract and are currently working in the private sector.
Workers who come from another Gulf Cooperation Council (GCC) country also take part in the scheme. The employee has 6.5% of their basic salary deducted, while the employer contributes an additional 9.5% to the government's social security scheme. The employer must also contribute an additional 2% to the employee's pension fund and an additional 1% as contributions to work-related injuries. The fund covers disability benefits, work accidents, and occupational diseases, among other benefits. Once a male employee reaches 60 or a female worker reaches 55, they have a right to receive an old-age pension.
Keep in mind that these state pension schemes do not apply to foreign employees. The Omani Social Security System does not insurance paid sick leave or maternity aids. It is most common that foreign workers arrange a private pension plan with the employer, join any corporate pension plans, or continue contributing to the state pension plan in their home country.
5. Onboarding in Oman
Once you hire workers in Oman, you must onboard them. Oman's employment compliance laws do not comprise any guidelines about the onboarding procedure. Therefore, you should onboard employees using a process that makes the most sense for your company. We suggest scheduling out a worker's first week to contain essential training, seminars, and time to complete any missing correspondence.
Click here and learn how a PEO can help you grow your company
It's also a good idea to review the employment contract with all your new employees on their first day. Doing so will guarantee that they comprehend all the terms at the start of their service with your corporation. You can also go over your company's code of conduct to make sure employees are comfortable with their new position.
6. Trial period for employees in Oman
Workers in Oman are subject to probation for a period no longer than three months or less for those workers who receive regular salaries once a month. In addition, there is a one-month trial period for those who receive salaries at other intervals. If the introductory period is positively passed, it will be calculated in the period of the service total.
A seven-day notification may be delivered from any party to the other to specify the termination of the contract during the trial period. An employer terminating the employee during his/her trial period must provide substantive evidence. Therefore, detailed reasoning must come in the form of a dismissal letter if terminated during the trial period.
7. Employment termination in Oman
7.1. Severance or redundancy pay:
Dissolution of a fixed contract proceeding to the expiry date is usually not allowed until the project has been finished. In addition, an exception is made for the cases of grave violation of conduct outlined in Articles 40 and 41 of the Labor Law for employers and employees respectively. In these situations, a notice period is not important.
The subsequent applies to individuals who are not under the provisions of the Social Insurance Law, which are characteristically non-Omani workers. Upon termination of the employment relationship that is not due to a violation of conduct, compensation is in place. Therefore, the employer must pay the employee an end-of-service gratuity referring to the employee's basic salary. In addition, the equivalent to fifteen days' salary for each year of service for the first three years, and a one-month salary for each year for the following years, is also to be paid.
For employers in compliance with the Public Authority of Social Insurance, the Omani employees have a right to the pension fund if the total contributions made by the employer exceed the gratuity payment.
7.2. Termination of Employment (end of contract):
Termination of service and the provision of a notification period are implicitly enclosed in the Omani Labor Law. Therefore, for unlimited period contracts, there is a thirty-day notice on paper for employees receiving monthly salaries. Failure to provide a notice period will require the compensating party to pay the gross salary during the notice period.
Much like severance pay, the termination of a permanent contract prior to the expiry date is usually not permissible. Only in the cases subject to grave violations of conduct, a notice period is not mandatory.
8. Is an EOR a suitable option for employment in Oman?
Compliance with native service requirements is just one of the subjects that foreign businesses face when hiring staff in Oman. For companies that intend to employ their staff directly through Omani entities, we recommend professional legal advice.
The Employer of Record (EOR) Oman ensures the employment is compliant with the host country's regulations regarding employment. In addition, the EOR will handle payroll processing, tax, and immigration. Using an EOR is the fastest and most cost-effective way to deploy local and foreign workers into Oman.
You should use an Employer OF Record if:
You are looking to employ staff quickly.
Your business doesn't have an appropriately incorporated entity in Oman.
The company wants to work within a defined budget.
You want to limit your initial commitment to Oman.
The company needs help with tax, employment, immigration, and payroll compliance in Oman.
9. How can EOR Middle East help you?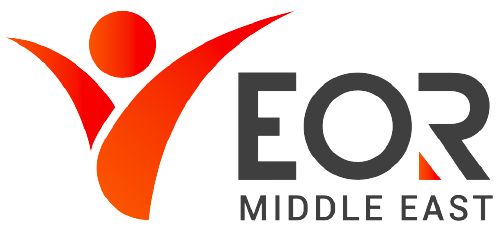 EOR Middle East can contract directly with the company to employ and payroll their staff in Oman. EOR Middle East supplies local employment contracts for the staff that ensure that you comply with local statutory requirements. In addition, we cover issues such as termination, trial periods, leave entitlements, and statutory benefits.
EOR Middle East is able to advise companies on how to cover local employment regulations whilst still providing consistent global employment policies.
Would you like to contact EOR Middle East? You can call at 00 971 433 16 688 or send an email to [email protected], and you'll talk to one of our representatives that will gladly answer all of your questions.
Do you want to get in touch with us and become a part of our team? Please enter to thetalentpoint.com and submit your CV or resume. Get in touch with us through e-mail to [email protected]. Do it now! We´re waiting for you!